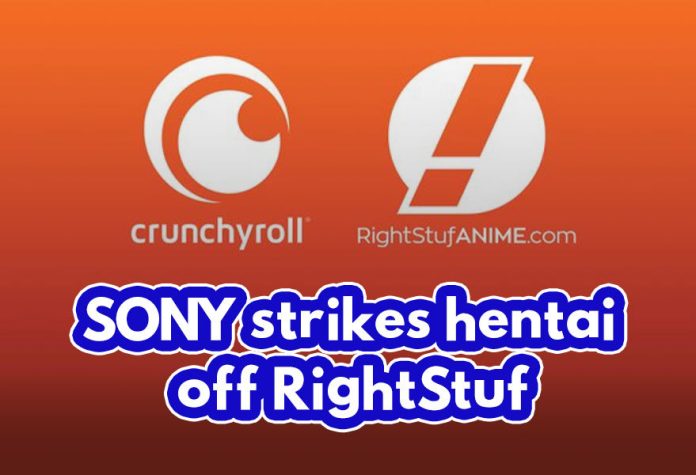 In August 2021, SONY Pictures, which already owned Funimation, completed its acquisition of Crunchyroll from AT&T, consolidating its power in the anime industry.
Just a few days shy of the anniversary of the Crunchyroll acquisition, SONY (through Crunchyroll) has announced another gobble-up of an an industry player: anime superstore Right Stuf will be joining the Crunchyroll family.
What's Right Stuf?
If you're living outside of North America, you might not be familiar with Right Stuf. Right Stuf was founded in 1987 and is North America's largest online anime-specific retail and distribution company. They offer everything from DVDs, books, apparel, artworks, and more.
With this recent acquisition, SONY now has Funimation, Crunchyroll, and Right Stuf under its empire, which allows them a concentrated power over anime streaming and physical merchandise distribution. While we often associate SONY's rivals to be "Xbox and Nintendo", the North American anime industry provides SONY a market with no meaningful competition. Slowly but surely, SONY is becoming the Disney of the North American anime industry.
What does this acquisition mean for erotic content?
In recent years, we've witnessed SONY's tendency to censor erotic content. 
In 2019, SONY adopted a new policy to cut down the number of PlayStation games with sexually explicit depictions of women. But many game developers found it unhelpful and confusing that SONY did not offer clearly written guidelines for this new policy, leaving the developers to figure it out by themselves.
Now, we are seeing the immediate effect of SONY's acquisition of Right Stuf. On the Removed Items FAQ of Right Stuf, it says, "As part of our new Right Stuf + Crunchyroll unification we will be phasing out the Erotica genre content and product. New orders for these items will not be accepted, and they have been removed from RightStufAnime.com."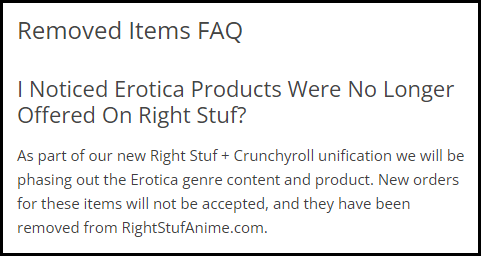 (Source: Rightstufanime)
This swift action leaves fans of erotic content with many questions. Would Right Stuf potentially ban anime figurines that "look sexy" (and by whose standards)? Would even bikini-clad figures that are not necessarily adult-rated be banned too? Will anime with slightly sexually suggestive fanservice scenes no longer be streamed outside of Japan? 
The elimination of erotic figures from Right Stuf poses another worrisome possibility for North American customers. If they have to directly import erotic products from Japan, they can be taken advantage of by scalpers, and/or scammers.
What about Crunchyroll Expo? 
Another thing to consider is what Crunchyroll's stance is for companies that handle adult content exhibiting at Crunchyroll Expo. 
Will companies like FAKKU and other R18 businesses still be allowed to exhibit, or will they be turned away?
Companies that handle adult products already find it hard exhibiting in cons because of zoning issues. Events like Anime Expo have a "Adult Area" which is often held in a different building. While yes, the people who gather there tend to be fans of erotic content, and yes, it's important to make sure a "Adults only" section is provided so minors don't have access to the erotic products, exhibitors are still paying the "same exhibition fees" as those on the main showfloor, while only getting a fraction of the traffic and visibility.
With more and more cons becoming stricter on adult content, eventually there may not be any cons for hentai publishers and stores to go to, and all transactions will be done online. While conveninent, that magic of "stumbling across something at a con" will be lost forever. 
Other:
Source: SONY Pictures Press Release, Crunchyroll, Rightstufanime, Business Insider, Ero Anime Store
---
Speaking of physical goods, Irodori Comics' physical erotic doujinshi are releasing soon! Check out the books here!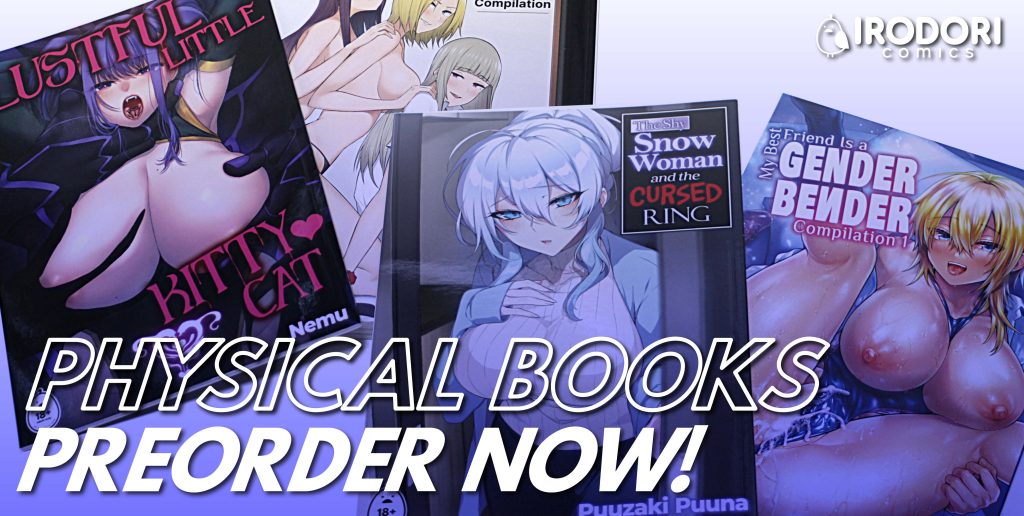 If you run a bookstore and you're interested in selling our R18 doujinshi, please get in touch!
---
If you enjoyed this article, you can support us by buying our officially localized English Doujinshi on our Irodori Comics Store! Works are uncensored and DRM-Free for you to keep!
When you buy works on our website, up to 60% of the selling price goes directly to the artists as royalties!
Read more news articles here.