Politicians hold a hearing on Doujin Events
Ever since the COVID started two years ago, doujin events in Japan have been on the brink of survival. 
Politician Kenzo Fujisue (Liberal Democratic Party) held a hearing to gather information about the situation on May 19th, 2022.
Many professional Japanese manga artists started their careers as self-published amateurs (doujin artists) participating in doujin events. Japan's manga culture and industry depend heavily on cornerstones like these events.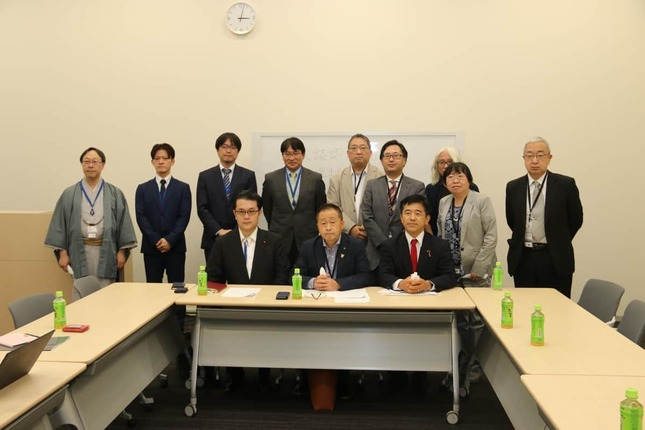 Approximately 30 people attended this hearing. Representatives of prominent doujin events like Comic Market, COMITIA, and SUPER COMIC CITY were prensent. Also in attendance were Tokyo Metropolitian Assembly members and local government members. 
Brief overview of what's been happening in the doujin industry since the pandemic outbreak in Japan:
According to the timeline provided by Yahoo! Japan News, the very first COVID-19 patient in Japan was detected on January 15th, 2020. Since then, the number of people infected with COVID-19 increased to a point that both the national and municipal governments could no longer avoid issuing lockdowns and restrictions of public events. This was a huge blow to the doujin industry, particularly real-life doujin events that garnered a large number of visitors. It was too dangerous to hold these events with risks of them becoming super-spreader events.
Even Comic Market, the largest event of self-published works in the world, had to be cancelled for the first time in its history since 1975. Comic Market couldn't be held for nearly two years. The event finally came back in late December of 2021, with the organizers taking strict pandemic precautions.
The current situation of doujin events:
During the hearing on May 19th, representatives and organizers from major events discussed the pace of recovery from the effects of the pandemic.
Gen Akagiri (the representative of KEI Corporation Co., Ltd which organizes doujin events such as HARU COMIC CITY and SUPER COMIC CITY) said that artist participation fell by 75% compared to pre-pandemic figures. Currently, his company's events are on the path of recovery at a very, very slow pace. And there were barely any exhibitors under the age of 30. When his company holds digital events, exhibitors are of an older demographic compared to real-life events. Akagiri shared his insight saying, "Exhibitors who can replace real-life events with online ones are mainly those with enough budget and life experiences." He added that the stalled consumption from the younger generations may have bigger consequences in the future.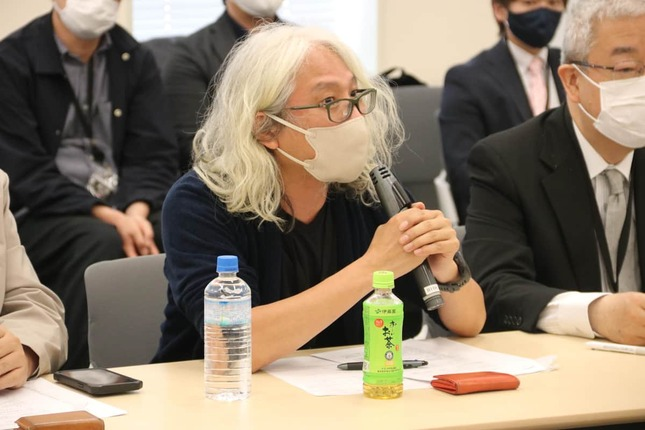 The Old-Timers are back, but no young blood
Kimihiko Nakazawa (the representative of COMITIA, Japan's largest event for original self-published works) reported that the number of exhibitors for this year's COMITIA (held on May 5th, 2022) was affected by the fact that the exhibitor registration period (months prior to the actual event) overlapped with the wave of the COVID Ominicron variant. He noted that while long-time exhibitors of the event returned, the number of new artists to register have decreased due to bleak prospects. 
Koichi Ichikawa (from COMIC 1) noted a similar occurrence at COMIC 1. While visitors to COMIC 1 were satisfied with the event and the COVID precautions set in place, the number of artists exhibiting was significantly lower because the artist registration period overlapped with the State of Emergency and Semi-Emergency COVID Measures issued by the government. Ichikawa added that with less artists participating, there were also less visitors coming.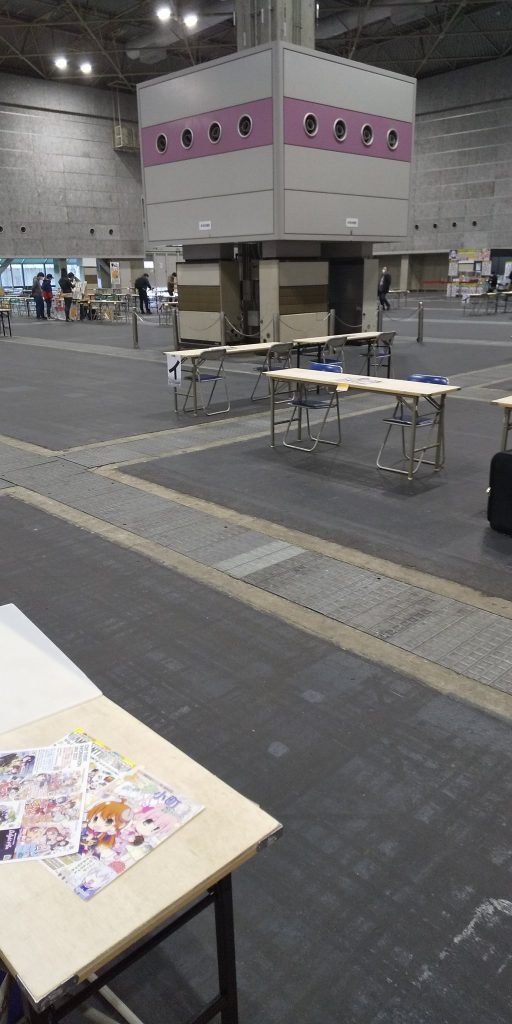 Have to consider raising fees to survive
Takahiro Hojo (representative of Hakurei Shrine Reitaisai, a doujin event solely for Toho Project fan works) noted that visitors to his events were invigorated young people eager to enjoy the event until the closing time. He said that over half of the visitors were under 30. But on the other hand, Reitaisai hasn't been able to bring in a number of visitors that match their pre-pandemic records. Hojo said that with special loans (that was a part of the government's COVID support for businesses) to pay back, he is considering raising admission fees to his events.
Doujin printing companies also suffering the effects of the pandemic:
The printing companies tailored to doujinshi have also taken a huge hit from the pandemic. In October 2020, Kyoshin Printing Co., Ltd announced that it was calling it a day, due to the pandemic.  Kyoshin Printing was a well-established and renowned doujin printer who created the very first catalogue for Comic Market in 1975. They have been involved in creating products for Comic Market until the pandemic severely affected its supply-chain management. Many other printing companies also had to scale down their doujinshi printing capabilities. These places shifting resources away from doujinshi printing means that the limited supply of print doujinshi will lead to popular artists, who print in large batches, will get "first dibs". Smaller artists attending their first event, printing in small print lots, might be turned away.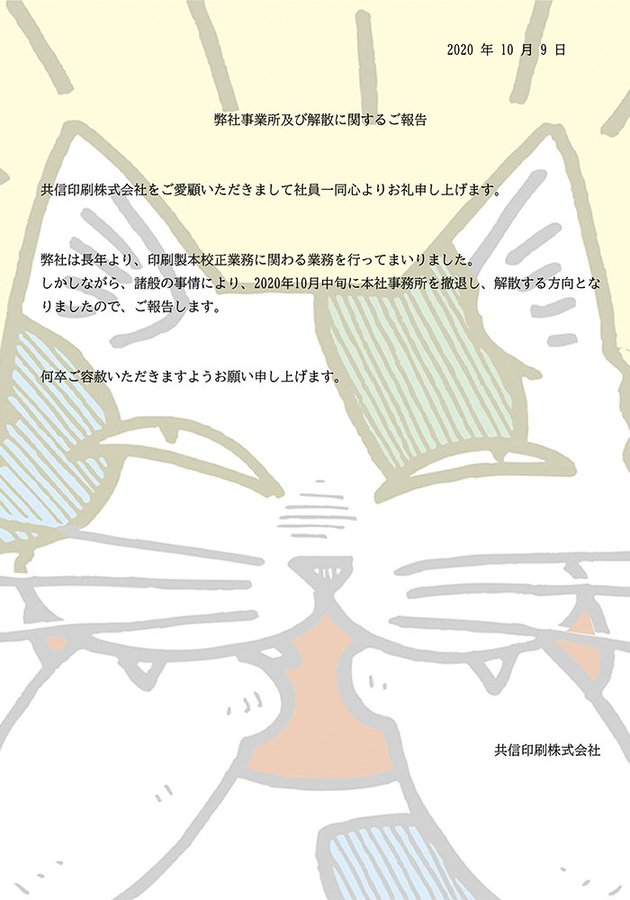 Slow recovery and new competitors
Tomoki Uchida, the representative of printing company Neko no Shippo Limited, and also the chairman of Japan Doujin-shi Printing Group (JDPG), said that because many events have down-sized due to the pandemic, artists are printing less copies of their works. For the 2021 Winter Comic Market, even the companies within the JDPG that faired better than others, only made about 40% of revenue that they'd usually make from the same event. According to Uchida, his company is getting many emails from artists who want to get back into printing works for real-life doujin evehts, thanks to the success of many events during the Golden Week (the consecutive holidays at the beginning of May in Japan) this year. However, Uchida speculates that it may well take years for printing companies to return to making pre-pandemic revenues.
Furthermore, Uchida noted that the landscape of the doujin printing industry is changing. He comments that non-doujin printing companies are starting to enter the doujin printing scene because they are dealing with decreased orders of regular advertisements and printed materials. Uchida said that because doujin printing is uniquely different from non-doujin printing, Japan Doujin-shi Printing Group aims to bring new printing companies under their wing so that the industry knowledge and knowhow could be shared and printing becomes accessible to more artists.
War in Ukraine also affecting doujin printing
Eikou Co., Ltd (one of the major doujin printing companies) had to deal with their annual revenue being cut to half in 2020 because of doujin event cancellations. The company adopted various changes to their business. Employee work schedules changed to a 4-day work week. Eikou also had to request financial support from the government. While the company survived the last two years of the pandemic, they had to deal with increasing material prices due to strains on the international supply chain since the latter half of 2021. 
The political situation in Ukraine has also exacerbated the increases of material prices. In March 2022, Eikou released a statement saying that it "had to make a very tough decision" of bringing up the prices for doujin printing orders. It will not be surprising to see other companies following suit in upcoming months.
The pandemic's effect on doujinshi artists:
In November 2020, Ryokuyousha (a doujin printing company) held an online survey for doujin artists to gather their thoughts on the pandemic. 2811 artists answered the survey.
The survey results showed that the pace of authors publishing new materials have dropped significantly. Many also expressed their disappointment and sadness about doujin events being cancelled. 
Clearly, doujin artists were suffering the pandemic blues. Question 12 (pictured) asked, "Since the COVID-19 pandemic has become prevalent, was there any change to your creative motivation?"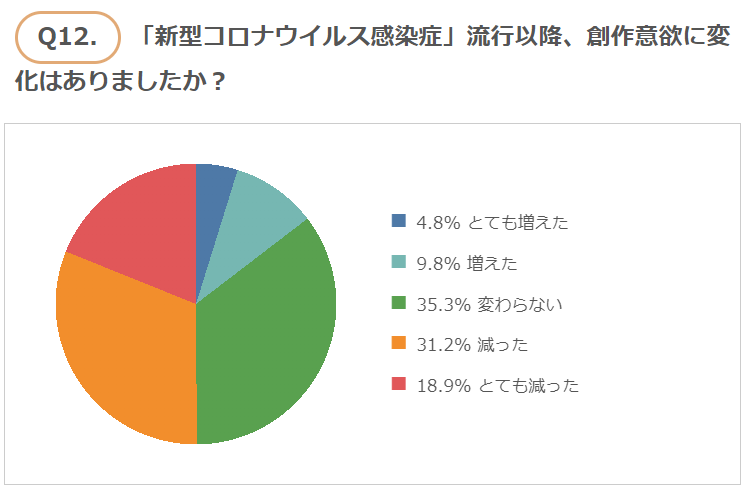 A combined 50.1% of the creators answered that their creative motivation had either "decreased" (31.2%) or "significantly decreased" (18.9%). 
35.3% of the creators answered that they experienced no changes.
Those who answered that their motivations "increased" or "significantly increased" were less than 15% combined.
The notable drop in their creative motivation was due to major events being cancelled left and right during 2020. The artists were looking forward to those events and scheduling their work around that. With events cancelled, many artists just decided to skip on releasing anything.
Even if there were real-life events happening, most people (83.6%) had concerns about participating in events in person. 
Pandemic has pushed more artists to subscription services
The pandemic has forced artists to reconsider ways they can make money. The last two years saw a significant increase in artists starting subscription services like FANBOX and FANTIA. Many artists have started to take on commissions on platforms like SKEB as well.
Subscription services and comissions provide a secure financial source for artists. But the medium pushes artists to create "one page drawings" or "few pages at a time". And this actually draws them away from making a standard 30 ~ 50 page doujinshi manga.
Some artists have transitioned fully to their subscription business model. And they have not released a "comic" in a long time. If these subscriptions are more financially feasable for artists in the long-run, we might see less artists returning to physical events with books, even when events eventually make a comback.
What will governments do?
It has been almost two full years since the above survey was held. The doujin industry, just like many others, have adapted to the pandemic and more real-life events are coming back.
The Tokyo Metropolitan Government said that it recognizes that this is an issue it must thoroughly work on to solve. After all, promoting anime (and related) industries is a big part of Tokyo's appeal. The Tokyo Metropolitcan Government announced several plans to support the doujin industry. Event organizers expressed great interest in the proposed plans.
We can only hope that the pandemic subsides soon. For the doujin events to make a full comeback, proper safety precautions and compliance will be necessary.
Other:
Comiket 100 is happening on August 13 – 14. What makes Comic Market great?
Source: J-cast, Yahoo! Japan News, Kai-You, Ryokuyou, Chugoku-np, itmedia
---
There's no Comic Market overseas, but if you want to support your favorite doujinshi artists, we're in the middle of publishing many C100 titles! Some have already released and some are currently being localized.
Keep an eye on our "C100 Collection"!

---
If you enjoyed this article, you can support us by buying our officially localized English Doujinshi on our Irodori Comics Store! Works are uncensored and DRM-Free for you to keep!
Furthermore, when you buy works on our website, up to 60% of the selling price goes directly to the artists as royalties! Since the Japanese Yen is at historical lows, USD royalties go a long way for our artists.
Read more news articles here.