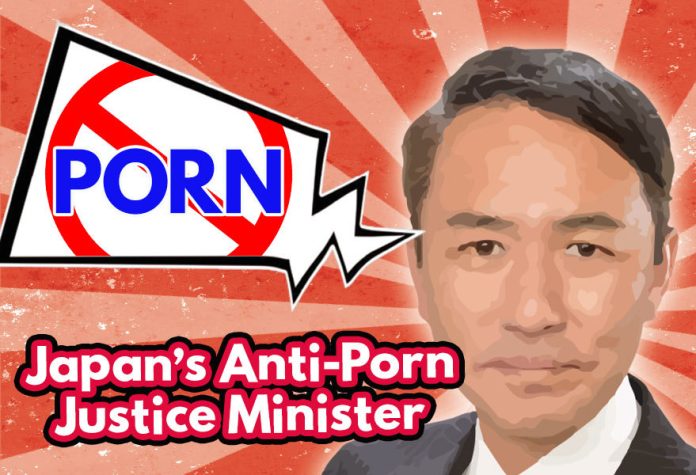 Forget Ken Akamatsu being voted in. Japan's newly appointed Minister of Justice is an ex-cop on a crusade against porn.
Disclaimer: This is an "Editorial" article. This article contains the writer's personal opinion. The opinion of the writer does not reflect the opinion of Irodori Comics.
The LDP back to being pro-censorship. 
Japan's House of Councillors election took place on July 10th, 2022. Manga fans around the world celebrated Manga creator Ken Akamatsu (author of Love Hina and Negima!) being voted in. They believed that his anti-censorship and pro-anime/manga stance will lead to a brighter future for the industry and a world where mangakas have their creative freedoms protected.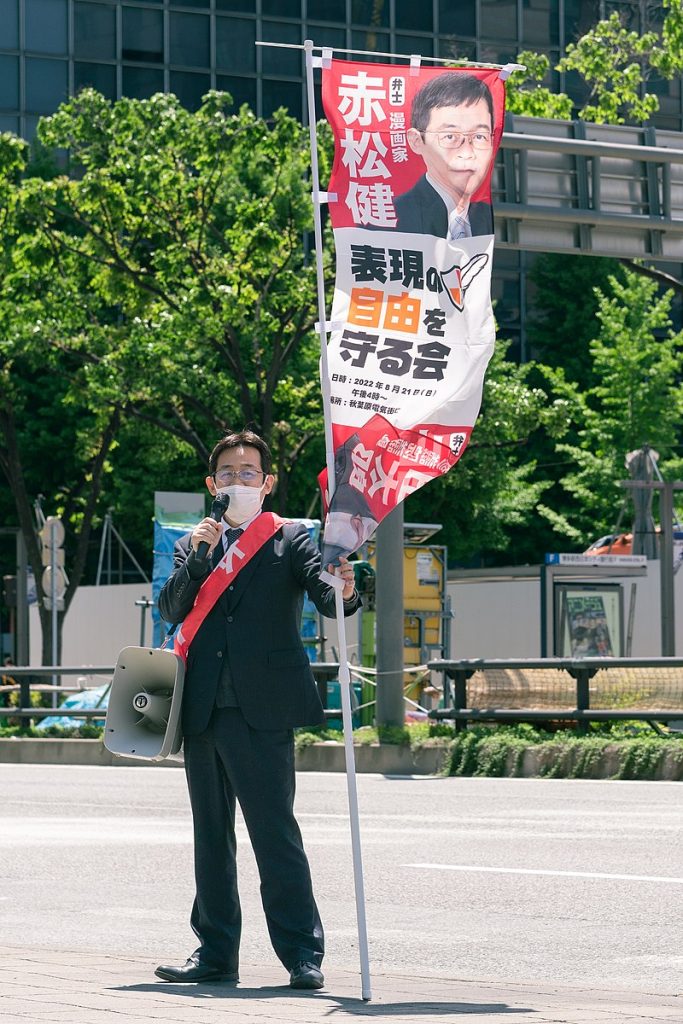 Voting in Akamatsu was a big step for manga. However, the LDP (The ruling party, which Akamatsu belongs to) might have just given the manga industry a massive middle finger.
Japanese Primie Minister, Fumio Kishida, tapped Yasuhiro Hanashi as his next Minister of Justice. The 62 year old Hanashi will be sworn in on August the 10th. He is serving his 6th term as a member of the House of Councillors.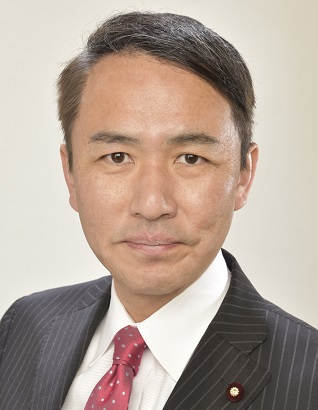 Hanashi graduated from Tokyo University and served 17 years in the National Police Agency before switching to a life of politics. He served in the Criminal Affairs Bureau (the Japanese equivalent of the FBI) and this is perhaps what moulded his current hardline stance against porn, manga, and video games.
Hanashi's Greatest Hits
During a "Committee on Judicial Affairs" meeting on June 6th, 2009, Hanashi made a lot of statements that made his views clear on the definition of "pornography", his thoughts on pornograhy and entertainment, and his "instinct" to sniff out child pornography.
These are just some of the things he said that day:
"A young man's nipples being shown is pornographic."
"The government should conduct an investigation on the negative influences of manga, anime, and video games."
"I can tell if child pornography is attached to my email without having to open it."
"When you receive an email, you should always assume that it contains child porn."
"There is no artistic value in any depiction of nudity of minors."
"Any film, media, photography, books, which depict nudity of minors should be destroyed. Even if created in the past."
"When it comes to determining someone's 'intent' for consuming pornography, it should be measured by how many times they open the case of the DVD, and how much fingerprints they leave behind on magazines."
"18 year olds with 'young-looking faces' and/ or 'wearing school uniforms'" should be considered as child pornography.
(On's Note: Prime Minister Kishida has since lowered the legal age to 18. There are now many 18 year olds in Japan who are in high school.)
Hall of Fame Quotes
"Any depiction of nudity is pornography."
"There is no such thing as a false accusation by cops."
"Cops are all honest and good people. Cops will never force people to confess."
"A signed confession is the ultimate admission of guilt."
"It should be up to the government to determine what is child pornography or not."
Mind you, he said ALL of this in ONE meeting. While he hasn't made public statements about his views on pornography since then, a man with such a long list of opinions is most likely not going to be much different from who he was in 2009. We can only imagine what he says behind closed doors.
Don't worry, Japanese porn will still be around
Hanashi being chosen as the next Minister of Justice doesn't mean that porn will be banned next week. That being said, as the minister, he sets the tone and overall direction of his department. And there will be a never-ending supply bureaucrats and career cops willing to kiss his ass for a cushy government position or notable connections.
Ken Akamatsu is a "Year 1 Politician". In the world of politics, he's a baby. The LDP already got the otaku vote. They don't need to pander to Akamatsu or his fanbase anymore.
On's Take
"Manga politicians" like Yamada Taro and Ken Akamatsu don't stand a chance in Kasumigaseki (Japan's DC). They are "gimmick" politicians who get voted in by a very niche group of people.
The two of them are very similar to the American politician Alexandria Ocasio-Cortez: they are young (in Japanese political standards), they are popular on social media, they are outspoken on youtube and video media, and they say things that a lot of people agree with.
Just like AOC, their biggest opponent, isn't the opposition party, but the "colleagues" within their own party. AOC can say all the right things, and have her "squad", but Nanci Pelosi can crush any bill she proposes, and twist her arm into voting for bills she might not fully support.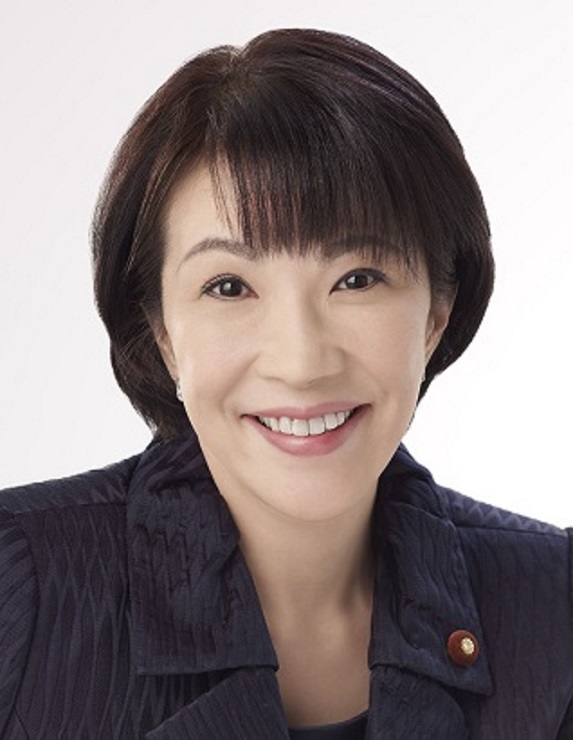 Akamatsu and Yamada are on the same boat. You can throw in five or six more pro-manga politicians in the party. They still won't hold a candle to the influence of LDP members who have a vendetta against manga and porn. Other than Yasuhiro Hanase, Sanae Takaichi, another hardline conservative against manga, is also a cabinet member. That means they have direct access to the Prime Minister. Akamatsu and Yamada probably meet Kishida like twice a year.
Fighting a losing fight?
This isn't their fault. It's the way the system works. Otaku voters just got too excited and optimistic without actually considering the reality that is Japanese politics.
By the time Yamada Taro and Ken Akamatsu gather enough influence and scratch enough backs to pass laws to make the industry a better place, who knows how many destructive laws and actions will be taken by the current generation of conservatice LDPs in power.
We very may well be seeing Akamatsu applying a band-aid on a gunshot wound.
Other:
---
Yasuhiro Hanashi and Sanae Takaichi hate hentai, but we know you guys don't!
Did you know we have a catalog of
FREE-TO-READ
doujinshi and a collection of works available for
99 CENTS each
?
Check them out
!

---
If you enjoyed this article, you can support us by buying our officially localized English Doujinshi on our Irodori Comics Store! Works are uncensored and DRM-Free for you to keep!
Furthermore, when you buy works on our website, up to 60% of the selling price goes directly to the artists as royalties! Since the Japanese Yen is at historical lows, USD royalties go a long way for our artists.
Read more news articles here.