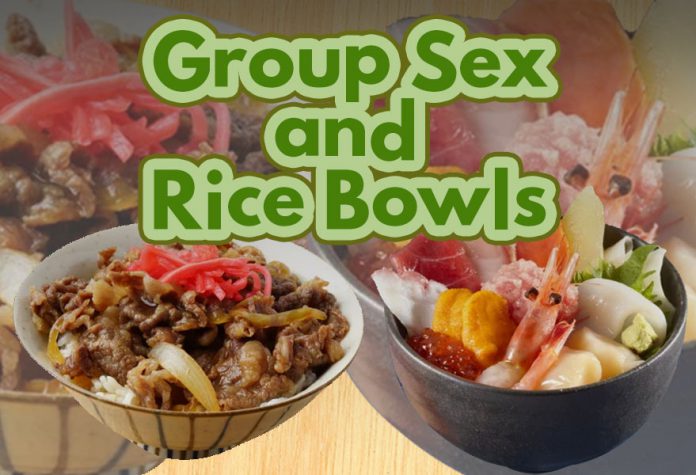 What is an Oyako-don and what does it have to do with threesomes?
What is an 親子丼 (oyako-don)?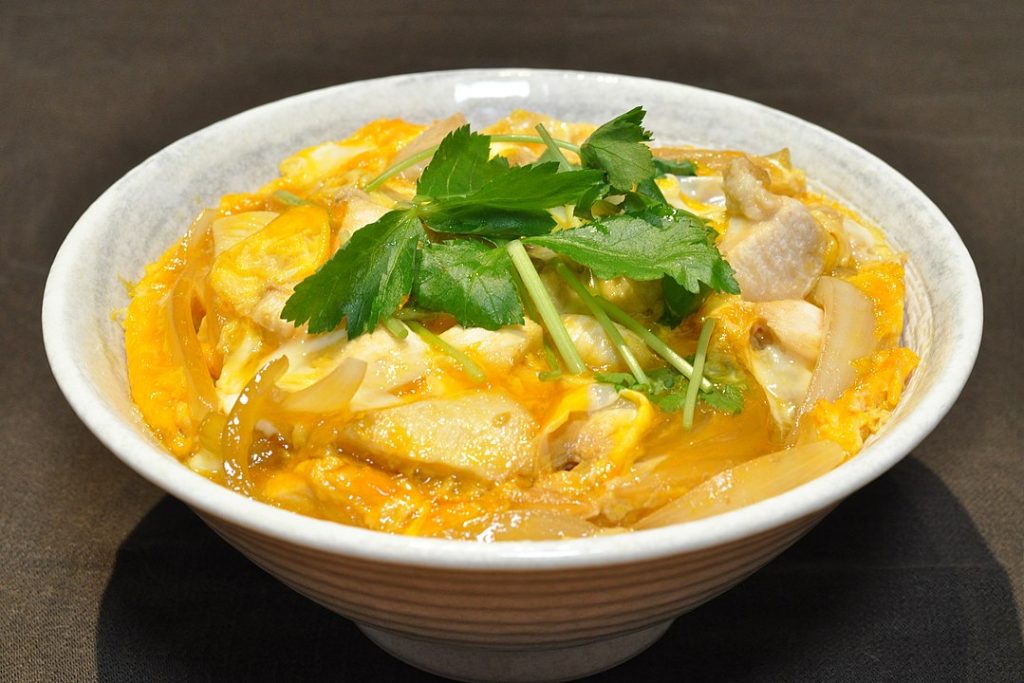 丼ぶり (donburi) is a popular type of dish in Japan where various meat, fish, or other ingredients are served over rice in a bowl. Usually, donburi is abbreviated as -don as a suffix. So if you see a Japanese menu ending with a don at the end, there's no doubt that it's a rice-bowl dish of some sort.
So what is an oyako-don? Oyako-don literally translates to "parent-and-child rice bowl." It has diced chicken, egg, and sliced scallions (or regular onions) simmered in sweet and savory soy sauce-based stock on top of cooked white rice. It usually has a bit of Japanese wild parsley, green peas, or chopped edible dried seaweed as well. 
The name referring to parent and child comes from the usage of chicken meat and eggs. There are times the oyako-don name is used as a part of other "parent-child" rice bowl dishes, but they usually use distinguished names such as 鮭親子丼 (sake-oyako-don) which uses salmon and ikura (salmon eggs).
While the origin of oyako-don is unknown, the oldest written record of its mention is in a Japanese newspaper advertisement from 1884. Since then, it has become a popular favorite dish in Japan. I've had it many times myself and I'm a fan of it. 
So what does oyako-don mean sexually?
I think the implication is pretty simple from the name. Oyako-don refers to when a person enjoys a parent and a child (or children) of that parent sexually. Mostly in hentai, oyako-don is depicted as a mother-daughter shenanigan featuring one guy, but the definition is pretty loose. It could be a mother and her multiple daughters. While it is very rare, there are some gay works featuring a father-son pair getting fucked by another guy.
Because the definition is fairly loose, it can be any parent-child pair having sex with another person, but I haven't seen father-daughter pair just yet. I have seen a handful of works with a mother-son (usually the son is a femboy) pair getting railed by a dude, though.
The key point is that the sex scenes have to feature the parent and the child at the same time. It won't be considered an oyako-don if the parent and the child have sex in separate scenes. It's gotta be a sexual activity featuring multiple people where at least two of the people are a parent and a child.
Oyako-don is alternatively spelled 母娘丼 in kanji, which directly translates to "mother-daughter rice bowl." If a hentai manta uses this spelling instead of the regular oyako-don spelling, the work specifically has sex scenes with the mother and her daughter(s) at the same time.
What are the variants of the sexual oyako-don?
I would say the most popular variant of the sexual oyako-don: is 姉妹丼 (shimai-don), which translates to "sisters rice bowl." As the name suggests, this refers to when you have sexual activities with two or more sisters at the same time. 
There is also 双子丼 (futago-don) which is "twins rice bowl" but when futago-don involves female twins, the term becomes categorized as a variant of shimai-don.
Although not as frequently seen as shimai-don, there is 兄弟丼 (kyoudai-don) which translates to "brothers rice bowl." It refers to a person having sex with two or more brothers at the same time. 
Another oyako-don variant that exists is 親友丼 (shin'yu-don). While the word shin'yu means "best friends," it doesn't have to be actual best friends. As long as the two or more people on the receiving ends of sex have a close friendship, you can use shin'yu-don. This refers to when you have sex with two or more people who are close friends with each other.
It's interesting to note that for words like oyako-don and shimai-don, the most common understanding is that a man is having sex with two or more female family members, but shin'yu-don has more flexibility of genders. Shin'yu-don can be a woman having sex with two or more bros (who are friends with each other). It could be a person having sex with two or more people of different gender (say, a man and a woman) just as long as those people on the receiving end are friends. 
Final one is 主従丼 (shuju-don). This is a curious one. It refers to when you have sex with two or more people who are in a master-servant relationship. 
That might be a bit confusing so let me give a few examples of shuju-don:
A person having sex with a daughter of a rich family and her maid.

A person having sex with a princess and her knight (usually also female).

A person having sex with a goddess and her subordinates (including priestess that serve the goddess, female spirits or sprites that assist the goddess, and any other female entities that are working directly under the goddess).
Shuju-don also has flexible gender interpretation, so it can include couplings like a prince and his male butler or a rich femboy and his female maid getting their asses fucked by another person.
Recommendations from the Irodori Collection!
Here are some works from the Irodori collections that feature oyako-don and the other "don" variants!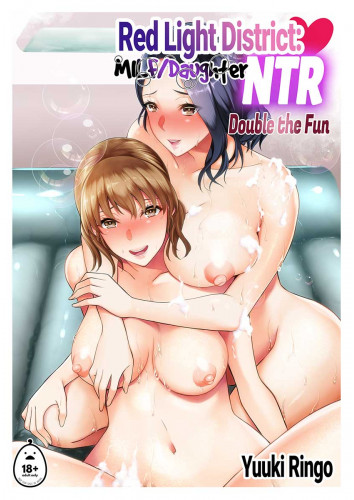 Red Light District 2: MILF/Daughter NTR – Double the Fun by Yuuki Ringo is literally titled "OYAKO NTR FUUZOKU DON" in Japanese. It's a great, succinct title describing what the work is about: Mother and daughter getting NTR'd.
This is actually the author's second installment of the MILF/Daughter series, but I featured this one because it has the oyako-don depiction. The first volume introduces the characters and the storyline, the sex scenes are separated between mother and daughter in this volume, so there isn't any oyako-don. 
The story features a man named Sakekawa who frequents the local soapland and hostess bars. On one fateful day, he finds that the two recruits are Kaoru and Ami, the wife and the daughter of his former bully. Sakekawa decides to take action to avenge himself. Read more to find out what happens to the unfortunate mother-daughter pair!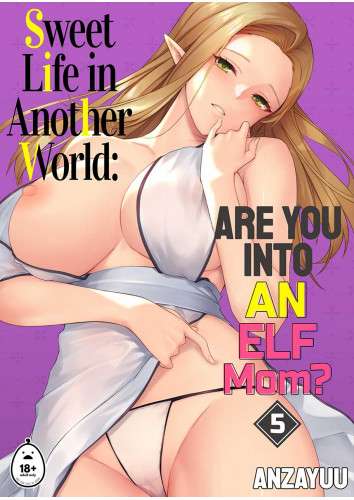 Sweet Life in Another World 5: Are You Into An Elf Mom? by Anzayuu
This is the fifth volume in the Sweet Life in Another World series by Anzayuu and the first one to feature the mother of Leticia, the main female elf character of the series. It has both stand-alone sex scenes with the elf MILF and the elf oyako-don sex scenes. ? 
This series is great for those who want to read mother-daughter threesome in a fantasy world setting. Make sure to check out the rest of the series on Anzayuu's Irodori profile to enjoy the whole storyline!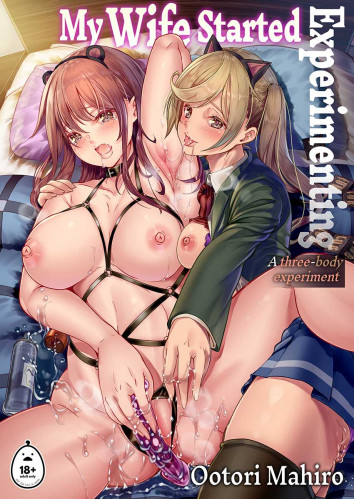 My Wife Started Experimenting by Ootori Mahiro is heartwarming (?) work that features a married couple and the wife's younger sister-in-law, all working together to solve the problem of the couple's sex life by trying out a whole bunch of new things, including a threesome with the sisters (shimai-don). It's a nice, short read packed with some really hot scenes!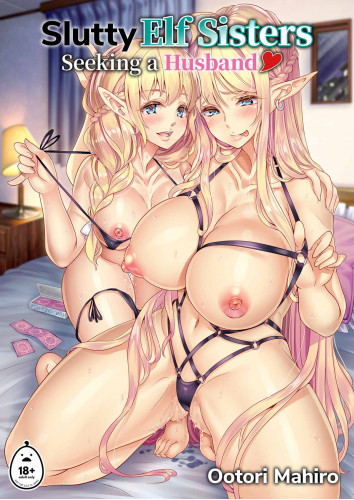 Ootori Mahiro has more shimai-don works in his catalog, including the Slutty Elf Sisters Seeking a Husband series which has five total volumes. The first of the series features a perfect shimai-don of fair-skinned, blond elven sisters that you don't want to miss!
Ootori has an extensive catalog on Irodori of threesome and harem works in fantasy and non-fantasy settings. So if you're into those categories, you should definitely check Ootori Mahiro's profile here!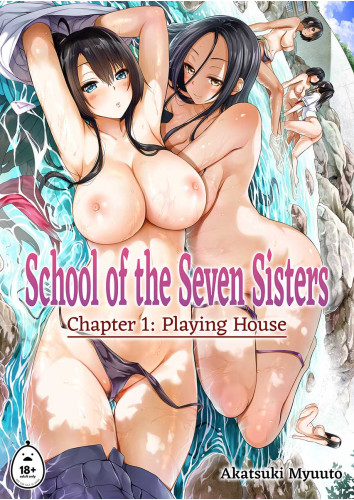 I think shimai-don works involving two sisters are fairly common. But how about a mega shimai-don featuring six sisters?
School of the Seven Sisters series by Akatsuki Myuuto is about a mediocre male teacher who finds himself in the company of six horny sisters in a peculiar school located in the middle of rural mountains. 
You might be wondering, "But the title says Seven Sisters, so where's the seventh one?" The mystery of the seventh sister will be revealed as the chapter moves forward so make sure to keep up with all the upcoming releases to find the truth behind these sisters. ?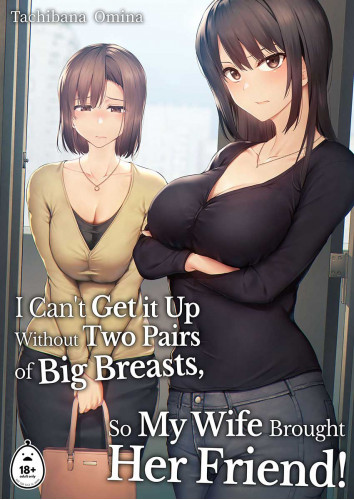 I Can't Get it Up Without Two Pairs of Big Breasts, So My Wife Brought Her Friend! by Tachibana Omina is a good example of a shin'yu-don. The story is about an average guy named Yuuto and his wife, Sae, bumping into crucial trouble in their sex life. Sae comes up with a surprising solution to their problem: bringing her friend bodacious but shy friend, Emi, to help out sexually!
These are the recommendations I have that feature oyako-don and other don variants! I hope you can find something that you like! Happy fapping! ?
Other:
---
Did you know we have a catalog of
FREE-TO-READ
doujinshi and a collection of works available for
99 CENTS each
?
Check them out
!

---
If you enjoyed this article, you can support us by buying our officially localized English Doujinshi on our Irodori Comics Store! Works are uncensored and DRM-Free for you to keep!
When you buy works on our website, up to 60% of the selling price goes directly to the artists as royalties!
Read more news articles here.