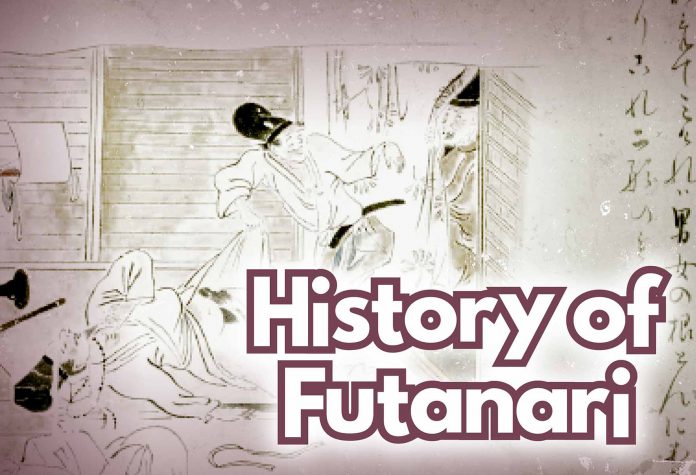 Today, we'll be discussing one of the popular genres of fetish in adult manga: Futanari. I'll talk a little about the history too.
Just so you know, this article is only talking about the futanari in fictional works and not about intersex people or transgender people in real life, since that's a whole other discussion to be had.
Futanari is one of my favorite genres that I read. Hopefully, by the end of this article, you'd be interested in reading some works about futanari characters!
So, What is Futanari?
In Japanese, futanari is written in multiple ways:  二成, 双成, and 二形 (all pronounced futanari). While the spelling might be different, they all have a common factor: each of them talks about having "Two" (二) "Forms" (成・形). So, futanari generally refers to a character that has both a penis and a vagina.
When was the first time that Futanari appeared in Japan?
While I was researching to write this article, I was surprised to find that the first written record of futanari appeared way back during the Heian Period (around the 12th century) in a picture scroll series called "Yamainosoushi" (病草紙). This scroll series has drawings of various medical conditions, rare diseases, and also entries on treatments. It's considered a national treasure of Japan and is now stored in the Kyoto National Museum. 
This is the actual entry of futanari from Yamainosoushi: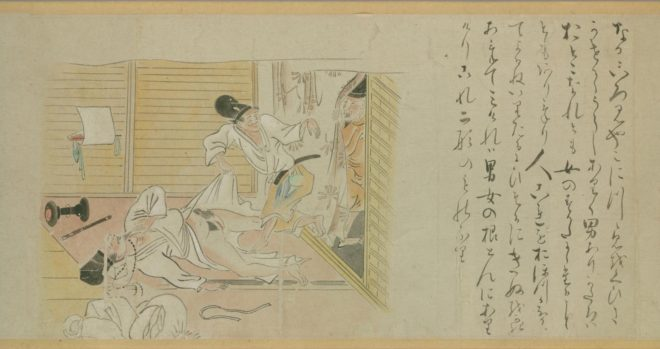 The title of this entry was indeed just "Futanari" and it details a man who had "both male and female genitals". This drawing shows a man who is futanari, being exposed by his colleague while he is sleeping.
What about Futanari in modern Japan?
While the first written entry of futanari about a thousand years ago was about a man who had both penis and vagina, in modern day Japan, the porn industry's (JAV, anime, and manga) depiction of futanari is filled with women with both genitals. The futanari genre has picked up a lot of steam since the 1990s in doujins and quickly spread to other forms of media. 
From my extensive (*ahem*) reading of futanari manga, probably over 99% of the works I've encountered are what's called the "female-type futanari" characterized by having boobs and both genitals. But there has been an odd handful from the Boys Love industry that had "male-type futanari" usually characterized by lack of breast tissues (that doesn't mean the character didn't have large man tits made of muscles) and having both genitals.
Because the market is mostly filled with "female-type futanari," I'll be focusing on them here.
The 2 major types of female-type futanari.
1) A woman who has both a penis and vagina with testicles. 
This is probably the most common out of what I've seen in the genre. This futanari type is often referred to as 玉あり ("tama-ari" which translates to "with balls"). This type of futanari woman usually has a penis, the balls, and the vagina is hidden by the balls.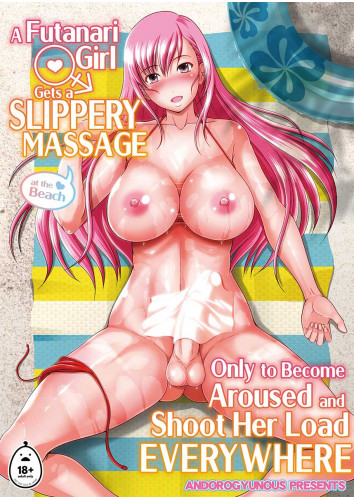 A good example of this can be seen in A Futanari Girl Gets a Slippery Massage at the Beach Only to Become Aroused and Shoot Her Load Everywhere by Kiyose Kaoru, which you can check out from Irodori!
2) A woman who has both a penis and vagina without testicles.
In contrast to the tama-ari futa girls, this type of futanari woman is often referred to as 玉無し ("tama-nash," meaning "without balls"). I'd say they aren't as popular as the with-balls futanari girls, but I see them around enough.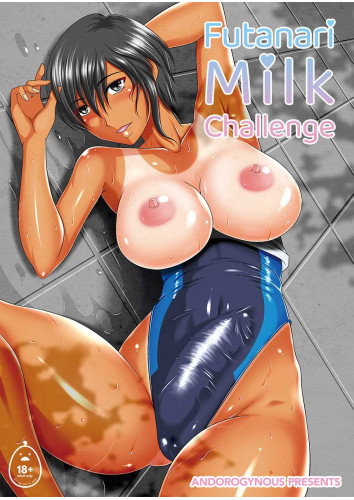 An example of without-balls futanari girls can be seen in Futanari Milk Challenge also by Kiyose Kaoru. 
But the thing is, some authors mix the two types of futanari girls in one work. The presence of balls and the lack of balls can be used as an important setting in the story.
What I like about without-balls futanari girls is that the vagina is easier to see and penetration shots are more clear. But that isn't to say I don't like futanari girls with balls!
*Quick note: Some authors write "futanari" in the title but it features characters that are trans women who only have a penis and no vagina. While the work is still enjoyable, of course, those characters are technically not futanari by definition.
Find your favorite form of futanari!
I've talked about the two major futanari types but there is more to futanari than having balls or not. Just like any other work related to penis and/or balls, there are a lot of factors to consider to find the futanari that fits your fapping needs.
The size of the shaft.
Maybe you like cute little micropenis on a futanari girl. Maybe just an ordinary size or slightly larger-than-normal size penis will make you aroused just fine. Or maybe you like more obscene sizes. I've noticed that in futanari works, there are more ridiculous sizes available than works featuring penises on regular guys.
If you're into extreme size, here are three levels to keep in mind:
巨根 ("

kyokon

"): 巨根 means "huge dick." This word is also used for guys with big dicks. There isn't a particular number attached to the definition of

kyokon

, but it's generally what you might consider larger than average but within reason of reality.

爆根 ("

bakukon

" meaning "explosive dick"): Now this is where things get crazier.

Bakukon

in the doujin industry generally refers to a penis that is about 50cm to 100cm (approximately 20 inches to 40 inches). 

超根 ("

choukon

" meaning "supersized dick"): This is the biggest and most ridiculous size available for the penis. Usually, a

choukon

penis is bigger than the person it's on and generally over 2 meters (6.5 feet) in length. It also usually has a monstrous girth. 
With the first two sizes above, it's possible for the futa girls to do self-titty fuck and/or autofellatio (that is, sucking on your own dick). With the ridiculous choukon size, authors can go to extremes like drawing two futa girls "docking" (putting a penis inside of the urethra of another ludicrously huge penis to use it like a cock sleeve – Yes, that is a thing). 
The size of the balls.
Similar to the three levels of the penis, the balls also have three levels of size.
巨玉 ("

kyotama

" meaning "huge balls"): These are typically twice the size of what's considered the average size of balls. 

爆玉 ("

bakutama

" meaning "explosive balls"): The sizing for this one is ambiguous but it ranges from 30 cm (11 inches) to something bigger than the girls themselves.

超玉 ("

choutama

" meaning "supersized balls"): Again, this one is the most unrealistic, out-of-the-world-huge balls. This size is often accompanied by huge ejaculations that can fill up a swimming pool.
I'm not sure the exact reason why these extreme sizings are common in futanari works, but as an avid reader of the genre, I can say that once you beat your meat often enough to regular size futanari, you get a little bored with it and extreme sizes do get things more exciting. 
Of course, you don't have to stick to one kind of size combination. After all, there are a lot of authors out there who are into all different kinds of futanari so you can enjoy a combination like a micropenis with "explosive balls" futanari to a supersized shaft and supersized balls futanari who ejaculate so much that she busts a hole into a wall.
Find your favorite futanari coupling!
 I'm a fan of futanari works, so I enjoy all the different kinds of coupling out there. Here are some selections you might enjoy if you're new to futanari.
Futanari women on non-futanari women: Futa Wives' Fuck Toy by Mizuryu Kei. See what happens when two really horny futanari wives get down with non-futanari ladies!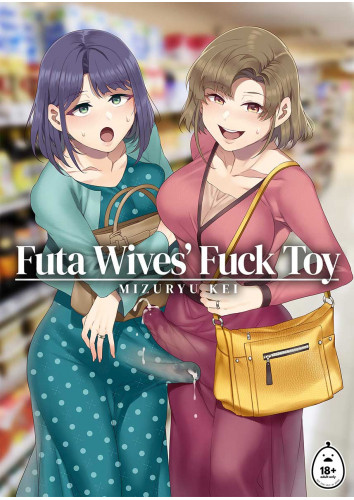 You might also like: Your Girlfriend NTRed By a Futanari Cock by Nakamura Tenzin for futanari girl on non-futanari girl work.
If you're into a futa girl dominating a guy, Futanari x Domination x Boy Toy by Piririnegi might be just right for you! 
Your Reward Is… Anal! by Dibi is also a nice manga with a futanari girl on male coupling.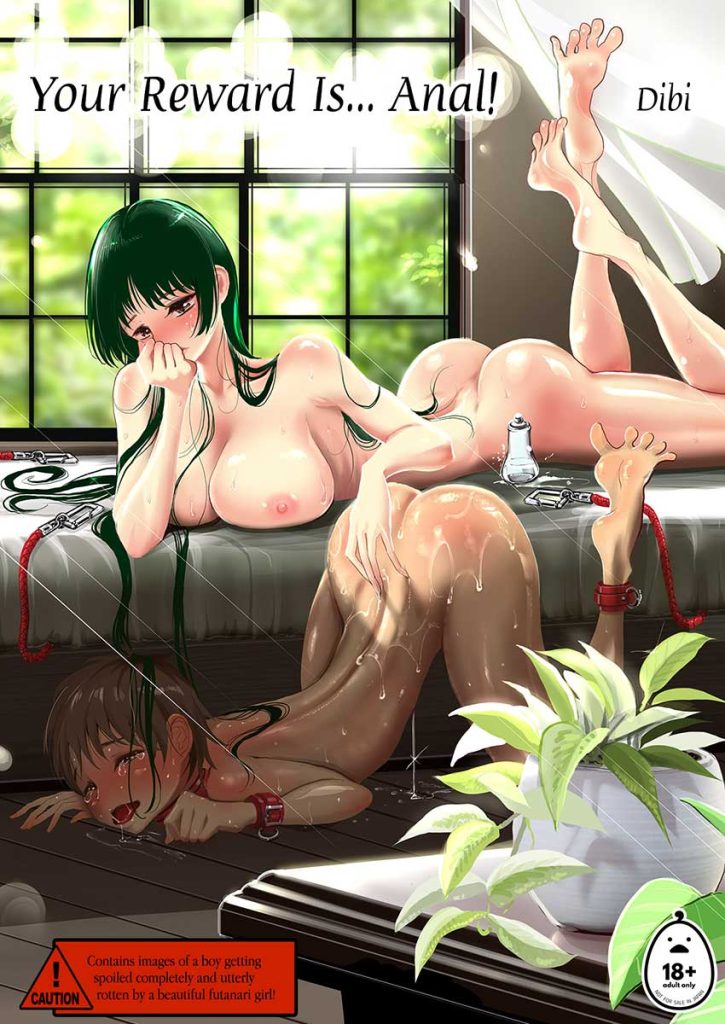 However, rather than seeing regular guys squirming under futanari girls, femboys getting an ass full from a futanari lady is your thing, The Gothic Lady I Fell for at First Sight Is a Futanari by Runrun would do the trick.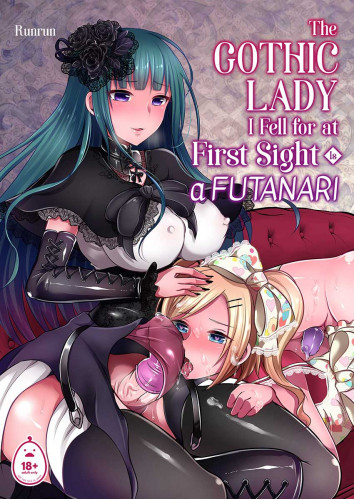 The works I introduced in this section all focus on futanari girls on top, but of course, there are works where futanari girls are on the receiving end of the rods which are just as equally enjoyable. ?
As a fan of the futanari genre, I hope that you can find futanari works that you enjoy!
---
Click here for more interesting articles about sex in Japan.
Click here for a full list of works with the futanari tag!