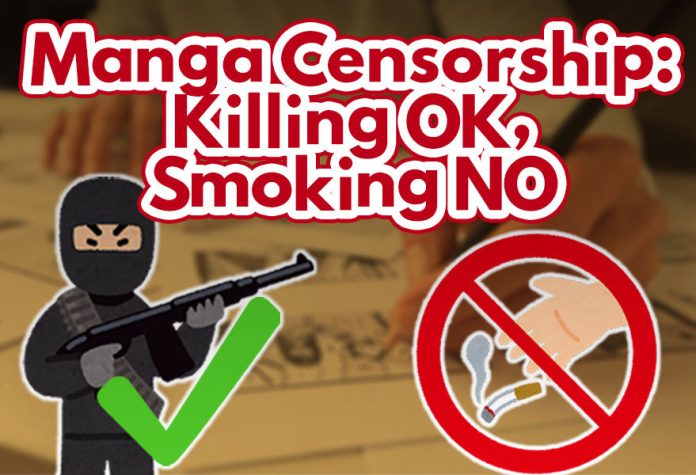 Morita Masanori, the manga author known for popular titles such as ROOKIES and Rokudenashi Blues, tweeted that a panel from his previous work has been treated with poor-quality modification involving the censoring of a smoking scene. Morita was irritated by the modification made by the publisher saying, "What is with this pose? What is with the hand? Where has the cigarette gone?"
わしに断りもなしに、クオリティーの低い修正を…。
言うてくれたら自分で直すがな!
…いや、直さへんか…。
これ、どういうポーズなん?
この手何なん?
タバコどこ行ってん? pic.twitter.com/wVlmOAJFbQ

— 森田まさのり (@HITMANmorita) September 3, 2022
The details of the censorship that angered Morita:
The panel depicted above is from a chapter of Rokudenashi Blues. Originally, the girl in the panel had a lit cigarette in between her forefinger and middle finger, suggesting that she was smoking it.
人を殺すシーンは描いていいけど、タバコを吸うシーンを描くと文句言う人がいる不思議。

— 森田まさのり (@HITMANmorita) September 3, 2022
In a subsequent tweet, Morita threw out this question to the public:
"It's fine to draw scenes of people being murderers, but it's so strange that there are people who complain when I draw scenes of people smoking."
For those who are not familiar with ROOKIES or Rokudenashi Blues, these two series center around characters who are rule-breaking delinquents, and there is a history of underage smoking amongst delinquents in Japan. One could say that his depiction of his teenage characters smoking is a depiction that is true to reality.
Note: Morita later noted that the censorship modification happened 30 years ago when the comic book of the series was published. From what he remembered, he was given a green light from the publisher upon the initial publication of the chapter in the magazine.
ちなみにこれは30年前のコミックス刊行時の話。
トビラだからと言われたような…。

雑誌掲載時は確か大丈夫だった記憶。 https://t.co/Lvm46OhX4j

— 森田まさのり (@HITMANmorita) September 4, 2022
At the time of this writing, there is no specific legal ban on the depiction of smoking in Japanese media, including manga, anime, and film. However, it seems that the publishers and production studios are faced with hard-lined protests from anti-smoking organizations such as the Japan Society for Tobacco Control (JSTC).
Japan Society for Tobacco Control's involvement in cigarette censorship.
JSTC has a record of sending written protest letters regarding depictions of smoking in the media. In 2006, it sent a letter to Shueisha and Nippon TV demanding changes to the smoking scenes in the manga and anime versions of Yazawa Ai's iconic NANA series.
JSTC protested against the multiple smoking scenes in Studio Ghibli's Wind Rises in 2013. 
In live-action drama series, Idaten: The Epic Marathon to Tokyo which aired in 2019 on NHK received demands to rectify scenes of smoking in the episodes from a different anti-smoking group. This drama series was set in Japan between 1910 and 1960s when smoking was much more common than in recent times. It is historically accurate to have characters smoking in the drama. However, the protesting lobby group was not having it.
Mangaka Kiuchi Kazuhiro voices his opinion on cigarette censorship.
In 2019, Kiuchi Kazuhiro, the manga artist behind BE-BOP-HIGHSCHOOL, the legendary manga about teenage delinquents spoke about the regulation of smoking scenes in the media.
Kiuchi noted that smoking scenes are necessary if the creators wanted to show a particular zeitgeist or aspect of the past.
"If [smoking scenes] were not there, I don't think you could accurately recreate the culture of the past either," the author added. 
While Kiuchi thinks it is an individual's freedom to protest against smoking scenes. However, he stated that just because one received a letter of protest to eliminate the smoking scenes, it doesn't mean one has to follow all of such demands.
World Health Organization issued a warning against cigarette depiction.
In 2016, WHO sent out a warning to nations worldwide to put an age restriction on media with smoking scenes because depictions of smoking can influence young people to pick up the habit. Given such background, publishers, TV stations, anime studios, and others in the entertainment industry must be careful of how smoking is depicted. 
However, this phenomenon points out the strange circumstances: while smoking gets an immediate red flag from multiple groups, violence, murder, harassment, and bullying on film get off scot-free. 
The Japanese entertainment industry will have to seek a more reasonable way to consider what should be censored and what shouldn't be censored rather than just complying with demands from certain lobby groups whenever they come up.
Other:
---
Did you know we have a catalog of FREE-TO-READ doujinshi and a collection of works available for 99 CENTS each? Check them out!

---
If you enjoyed this article, you can support us by buying our officially localized English Doujinshi at our Irodori Comics Store! Works are uncensored and DRM-Free for you to keep!
When you buy works on our website, up to 60% of the selling price goes directly to the artists as royalties!
Read more news articles here.