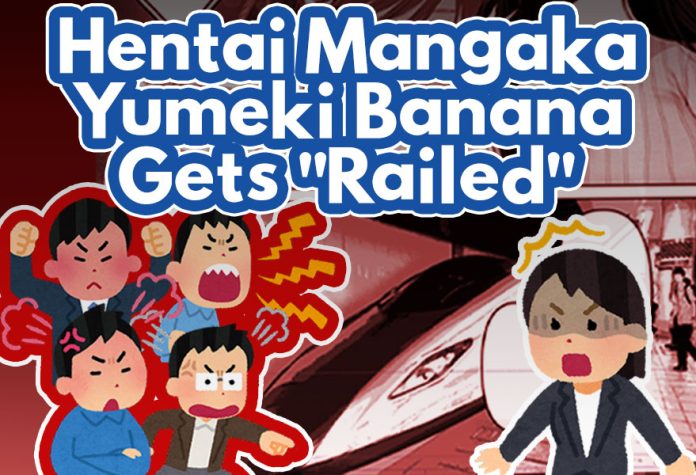 Yumeki Banana is a hentai mangaka who publishes her works at Irodori Comics. She recently got the Japanese internet's attention because of a particular post she tweeted.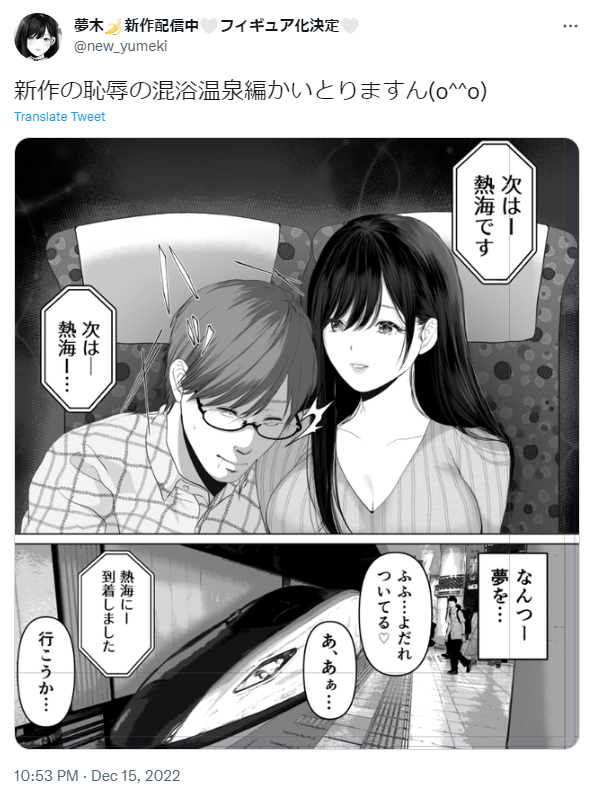 On December 15th, 2022, Yumeki Banana tweeted an excerpt from her latest doujinshi she was working on at the time. This is from the Anything for You series that is available (up until chapter four as of this writing) from Irodori Comics.
In the above tweet, there is a depiction of a train in a seemingly underground station and the scene depicts the couple arriving at Atami Station.
This has caught the attention of hardcore train enthusiasts in Japan, leading to an angry dogpile because Yumeki Banana's depiction of the train and the station had been inaccurate.
According to many of the critical replies she received, she drew an E7-Series bullet train which never goes through Atami Station.
これ今気付いたんだけど引用RTで鉄オタさん達が発狂しててめっちゃビックリした💦申し訳ないけど新幹線漫画じゃなくてエロ漫画なんだ…マジ新幹線この一コマしか出ないから多めに見てください🥺💦💦💦こわい💦すみません💦 https://t.co/U6FgAE4tSB

— 夢木🍌新作配信中🤍フィギュア化決定🤍 (@new_yumeki) December 16, 2022
In a subsequent tweet, Yumeki Banana expressed her surprise at just how many train enthusiasts have come to correct her about the depiction and asked people to please give her a break because her work is, in fact, a hentai manga and not a train manga, on top of the fact that the train only appears in that one panel.
Yumeki Banana did receive some heat from the train enthusiasts but at least her work got promoted publicly through a viral tweet that put a spotlight on this whole matter:
えちえち漫画家さん「新作エロ漫画書いたよ~!熱海の混浴温泉編です!」
↓
凄まじい勢いで鉄ヲタからシュポられて困惑

■同人誌URL(※🔞注意)https://t.co/tz6aMzneBx#撮り鉄速報 pic.twitter.com/wFeCswz9r4

— 滝沢ガレソ🪚 (@takigare3) December 22, 2022
If this got you interested in this series, Anything for You is available for purchase on Irodori Comics!
As of this writing, four chapters from the series are available!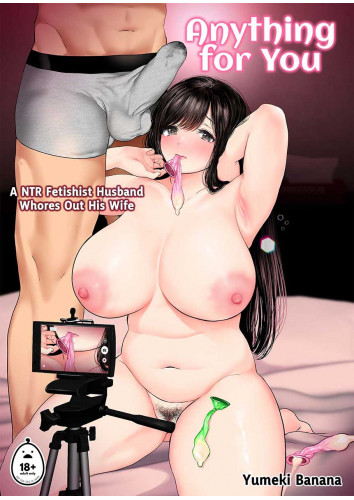 Description
The bounds of Kaori's love for her husband are tested when he reveals that for his upcoming birthday, he'd like to act out a long-held fantasy of watching another man bang his wife in front of him. She doesn't understand what's so titillating about cuckoldry, but if it makes him happy…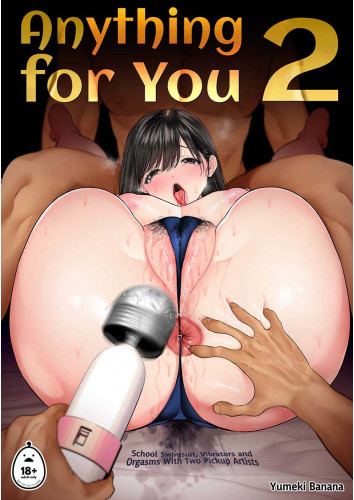 Description
Having gotten a taste of cuckoldry, Kaori's husband escalates his demands and asks her to record herself being propositioned for no-strings-attached sex at a bar. The innocent housewife ends up being taken home by two pickup artists and having her first threesome, complete with cosplay and sex toys!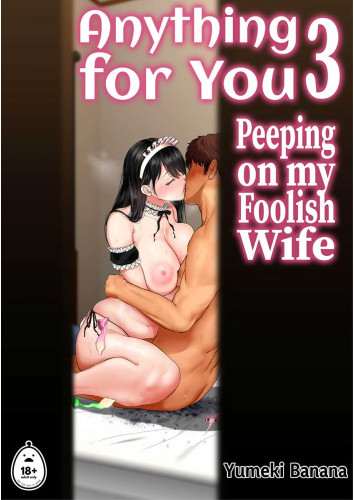 Description
Kaori hits it off with one of the men from her threesome a while ago, and when he asks her out on a date, she enthusiastically agrees – with her husband's permission, of course. But Ryoya thinks they might be getting a bit too close…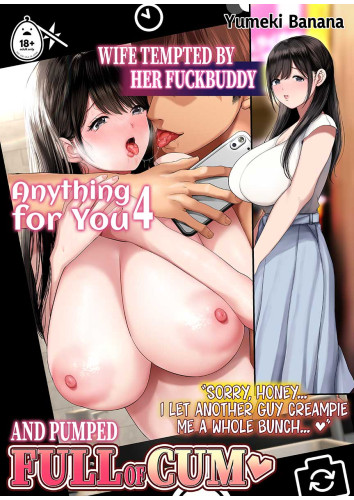 Description
The ménage à trois between Kaori, Ryoya, and Tomoki is getting complicated, and she decides to come clean to her lover about her relationship status. At the same time, the demure Kaori is starting to show her husband a much more dominating side in the bedroom…
Hooked on Yumeki Banana's works? Make sure to create an account on Irodori Comics and click the Follow button on Yumeki Banana's artist page to get updates on her manga!
Other:
---
Did you know we have a catalog of FREE-TO-READ doujinshi and a collection of works available for 99 CENTS each? Check them out!

---
If you enjoyed this article, you can support us by buying our officially localized English Doujinshi on our Irodori Comics Store! Works are uncensored and DRM-Free for you to keep!
When you buy works on our website, up to 60% of the selling price goes directly to the artists as royalties!
Read more news articles here.