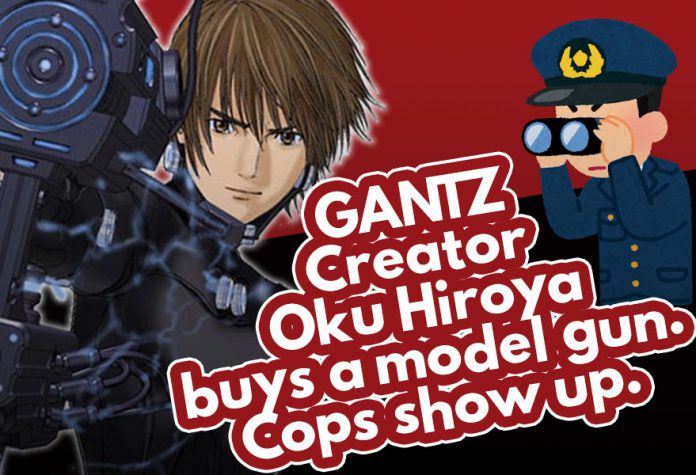 Oku Hiroya, the manga artist who is known for his iconic manga series such as GANTZ and Inuyashiki, tweeted on September 2, that the cops called him to inform him that they were going to confiscate a model gun he purchased. Please note that the author was not arrested on any charges.
警察から電話で、このオモチャ回収しに来るそうです。ううう…気に入ってたのに… pic.twitter.com/0Xw5qJwJK2

— 奥 浩哉 (@hiroya_oku) September 2, 2022
This model gun named Sky Marshal has been sold online through various retailers including Amazon Japan. At the time of this writing, Sky Marshal no longer comes up on the search results on Amazon Japan. Before the model gun had been wiped off the search list, it was sold for 4000 yen (approximately US$28) a piece.
According to the Firearms Control Division of the Hyogo Prefectural Police, who was interviewed in relation to this topic, the Sky Marshal model gun cannot be used as a functional weapon as it is. However, they noted that with modification, this model gun can attain the ability to fire live ammunition and that was the reason behind the ongoing confiscation process within Japan. 
The Metropolitan Police Department noted that with the cooperation from the sellers of Sky Marshal guns, the police have confiscated the model guns from approximately 300 people from all across the country. 
While owning this model gun does not automatically violate the Firearm and Sword Possession Control Law of Japan, Fukuoka Prefectural Police Department has stated that those who do not cooperate with the confiscation of model guns could be arrested and charged for violations of the aforementioned law.
Oku Hiroya updated on September 5th that the police visited and took the gun away, but he was a bit happy that the cop told him, "I always read your works."
オモチャ回収されたけど、刑事さんに、いつも読ませていただいてますって言われて
少し嬉しかった。

— 奥 浩哉 (@hiroya_oku) September 5, 2022
Other:
---
Did you know we have a catalog of
FREE-TO-READ
doujinshi and a collection of works available for
99 CENTS each
?
Check them out
!

---
If you enjoyed this article, you can support us by buying our officially localized English Doujinshi on our Irodori Comics Store! Works are uncensored and DRM-Free for you to keep!
When you buy works on our website, up to 60% of the selling price goes directly to the artists as royalties!
Read more news articles here.