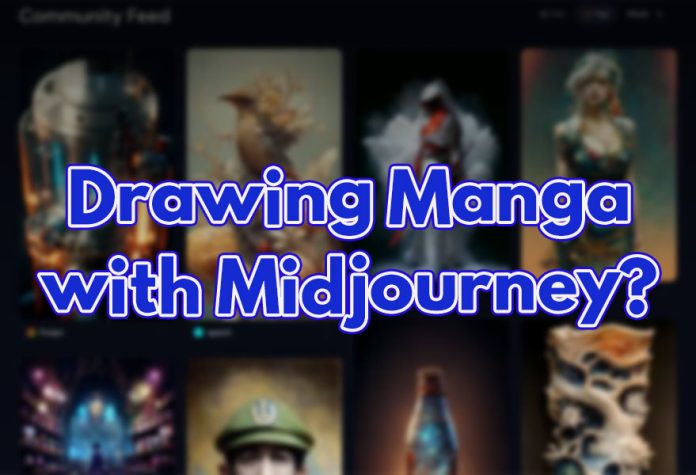 What is Midjourney?
Midjourney is an artificial intelligence program that creates images based on the text prompt you give to it. It's similar to OpenAI's DALL-E that has been popular on Twitter as of late. However, it seems like Midjourney has been taking the Japanese Twittersphere by storm in recent weeks. 
Midjourney manga?
On August 7th, Japanese Twitter user Ryo Sogabe tweeted, "I can't draw or don't know how to create manga, but I've decided to map out the images I created on Midjourney in manga format. I don't know what's going on but I think this is a bit intriguing… (I'm not thinking of anything further than this, though)." He posted four black-and-white panels with edited texts onto it in a common manga format.
This garnered over 44,500 likes and over 13,400 retweets. Not surprised. These four pages look amazing and I would have loved to know the rest of the story. 
絵描けないし、漫画の作り方も知らないけど。
midjourneyで生成した画像を漫画的に配置してみた。
よく分からんけどちょっと面白そうかもしれない…。
(これ以上は何も考えてません)#midjourney #AiArt #comic pic.twitter.com/VHYXVT73iQ

— Ryo Sogabe / Creative Video Manager of CLE (@sogachin) August 7, 2022
Not so long after Sogabe's experimentation on August 10th, Rootport (light novel author and manga story writer) also tried their hands on Midjourney manga with the title, "Cyberpunk Momotaro." (Momotaro is old Japanese folklore about a boy name Momotaro who was born from a peach defeating Oni that were terrorizing the area.)
AIにマンガを描かせてみるテスト(1/n)#Midjourney #マンガが読めるハッシュタグ #ツイッタSF #サイバーパンク桃太郎 pic.twitter.com/ctA9BvpU9l

— Rootport💰🍹🍑 (@rootport) August 10, 2022
Of course, other Japanese users are creating non-manga-style Midjourney images also.
The weather forecast over the Comiket 100 weekend reported that a typhoon will hit Tokyo during the event. Twitter user Ankou prompted Midjourney to make an image of how it would look if Comiket was hit by a typhoon and they got this result.
AIに台風が直撃したコミケの様子を描いてもらった#midjourney pic.twitter.com/byGoXwQwN3

— 𝗔𝗻𝗸𝗼𝘂😺 (@ank0u1) August 10, 2022
In fact, Tokyo was actually hit by an actual typhoon on the first day of Comiket 100.
【速報】コミケ会場30秒で天気が一変し嵐に飲み込まれる

傘を出す間もなく戦死者多数か#コミケ#C100 pic.twitter.com/FBuiGS9cM1

— ゆるふわ怪電波☆埼玉 (@yuruhuwa_kdenpa) August 13, 2022
The attendees had to line up in a long queue before entering the venue.
コミケの待機列が大惨事…誰か助けて #c100 pic.twitter.com/EgW1XK5ett

— 初音たねぽ🧪 (@hachune_miku) August 13, 2022
Hopefully, none of the artists got sick after facing harsh weather conditions!
Bonus:
Timelapse footage of attendees visiting Comiket 100 before the storm:
コミックマーケット1日目の東地区入場の東駐車場→ガレリアの様子をタイプラプスでお届け。#C100 pic.twitter.com/84nn4PFlTA

— コミックマーケット準備会 (@comiketofficial) August 13, 2022
Other:
---
There's no Comic Market overseas, but if you want to support your favorite doujinshi artists, we're in the middle of publishing many C100 titles! Some have already released and some are currently being localized.
Keep an eye on our "C100 Collection"!

---
If you enjoyed this article, you can support us by buying our officially localized English Doujinshi on our Irodori Comics Store! Works are uncensored and DRM-Free for you to keep!
Furthermore, when you buy works on our website, up to 60% of the selling price goes directly to the artists as royalties! Since the Japanese Yen is at historical lows, USD royalties go a long way for our artists.
Read more news articles here.