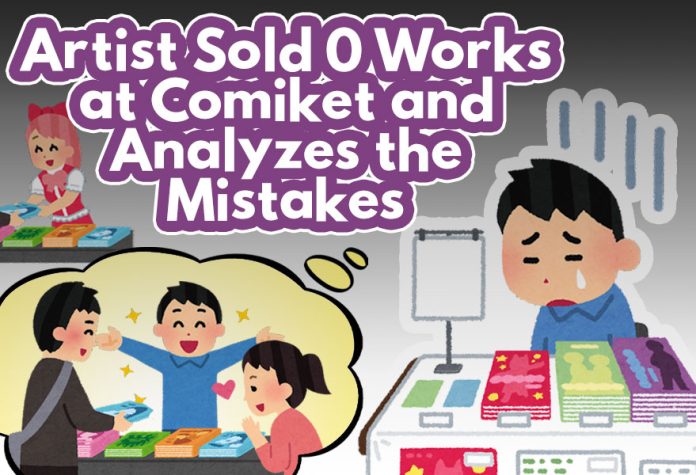 An artist by the name of Yokotsuki Reiji wrote a blog about how they didn't sell a single work at Comiket 100 that took place this past August and tweeted about it. Ironically, their tweet about the blog they wrote became the single biggest viral hit for the author thus far.
コミケで1冊も本が売れなかった話。|横月レイジ @Dishonazy #note #コミケ #C100 https://t.co/0EPGdXYXdu

今日のレポートです!ご意見やご感想をいただけると嬉しいです。

— 横月レイジ (@Dishonazy) August 14, 2022
The original blog article written in Japanese can be read here:
https://note.com/disonazy/n/nf97b688587b8
The preface 
In the foreword, Yokotsuki mentioned that Comiket 100 had been their first-ever Comiket participation as a seller. The author continued to state that they've decided to write this blog so that they could reflect on their thoughts about this occurrence (of not selling any work at Comiket 100) and provide some emotional support for artists who were in similar situations.
Yokotsuki moved on calm observation of their circumstances and elements that have led to no sales of their works.
The analysis
Yokotsuki starts by stating that they have very few followers on Twitter and Pixiv and receive little engagement daily. Yokotsuki also noted that the main topic of their doujinshi was a very, very obscure gyaru game that ended its service in 2013. This was their first time publishing a proper doujinshi, let alone writing a manga.
Then they explained that they were overconfident and thought that even if their entire stock didn't sell, there might be a few people who'd buy their works because:
Each Comiket brings in tens of thousands of people, and the author assumed some of those people would drop by their booth, like their works, and buy the works.

Nine people bookmarked the author's Comiket web catalog, so the author assumed those nine people would at least buy the works.

While Comiket was taking place, the author's online posts on Twitter and Pixiv received a few likes, so the author assumed these few likes would translate to sales.
But then Yokotsuki considered things from the buyer's perspective as he had been to Comiket a few times, not as a seller but as a regular enjoyer of the event. It became clear to the author that more prior online engagement was critical to sales, and while they've worked hard on their publication, their best was simply not on par with the quality of other artists who brought their A-game for Comiket 100.
The conclusion
Yokotsuki concluded their reflection in a positive tone, saying that they've not given up on it yet and that if they can get into C101, they'll make another book about the same obscure game that they love so much but with more preparation. Yokotsuki hopes that in the future, they could look back at what happened in Comiket 100 and think that it was a necessary step in their career to improve and grow.
Other:
---
Did you know we have a catalog of FREE-TO-READ doujinshi and a collection of works available for 99 CENTS each? Check them out!

---
If you enjoyed this article, you can support us by buying our officially localized English Doujinshi at our Irodori Comics Store! Works are uncensored and DRM-Free for you to keep!
When you buy works on our website, up to 60% of the selling price goes directly to the artists as royalties!
Read more news articles here.