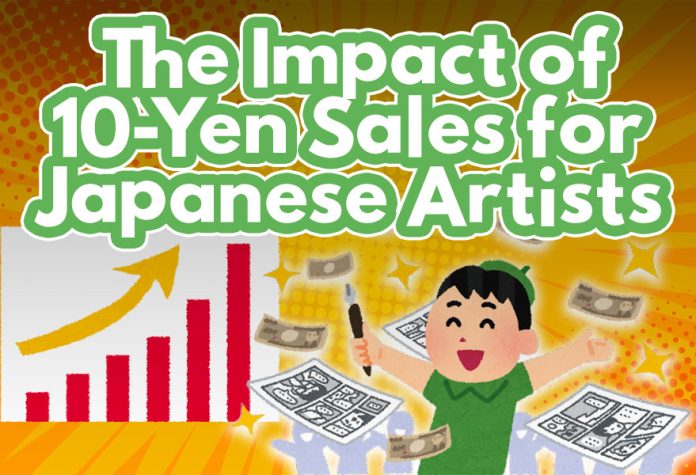 Popular hentai manga artist, Hyji, shared an interesting piece of information about a 10-yen sales of his works in a tweet on September 3, 2022.
今回の10円セールでの結果です。
約2万6千DL 卸値6円なので 15万円ちょいになりました。
塵も積もればの極みですね。賽銭箱から1円玉があるれてるイメージです。
だから違法アップロードが嫌なんですよ。
一人10円でも払ってくれたらどんだけ作家が助かるか。 pic.twitter.com/UwRk9z9wpO

— 灰司@近女誘惑 22年10/29新刊発売 (@hyjihyji) September 3, 2022
In this tweet, Hyji shared a screenshot of their electronic download sales page on FANZA (as implied in the subsequent tweets from the author) in relation to the 10-yen (approximately US$0.07) sale that happened recently.

The author explains that the amount they receive (after fees are deducted) is about 6 yen (approximately US$0.04) per copy during the 10-yen sale. Please note that the comic in the second row was a part of the sale and the comic in the first row is not.
During this past 10-yen sale period (from August 26 to September 2, 2022), the author sold 26,474 copies of the bargained comic. This comes to a total of 158,844 yen (approximately US$1105). 
In the above tweet, the author writes:
"This is the result of the 10-yen sale this time around. About 26,000 downloads. The wholesale price is 6 yen, so it came to a little over 150,000 yen. This is the ultimate form of small things adding up to making a huge difference. It's like how there are so many 1-yen coins in the shrine offertory box. 
This is the reason why I hate illegal uploads. It cannot be understated how much it helps the artists even if one person paid 10 yen for their works."
ちなみに10円セールの時、自分のはトップ10に入ってないですからねー。
それでこれですよ。トップ10の売り上げって、、、

— 灰司@近女誘惑 22年10/29新刊発売 (@hyjihyji) September 3, 2022
In the above tweet, Hyji additionally states, "I wasn't even in the top 10 best-selling authors during the 10-yen sales but even so, I made this much money from it. I can't imagine just how much the top 10 best-selling authors make…"
As you can tell from this example from Hyji, a little help from many fans go a long, long way for the artists.
Irodori Comics 99 Cents Collection!
At Irodori comics, we have the 99 Cents Collection where you will find many of our popular works available for a huge discount every month!
But hurry! The discounted titles change each month so make sure to check the page below before the month ends!
Click here or scroll below and tap on the banner to see the current sales collection!
Other:
---
Did you know we have a catalog of FREE-TO-READ doujinshi and a collection of works available for 99 CENTS each? Check them out!

---
If you enjoyed this article, you can support us by buying our officially localized English Doujinshi at our Irodori Comics Store! Works are uncensored and DRM-Free for you to keep!
When you buy works on our website, up to 60% of the selling price goes directly to the artists as royalties!
Read more news articles here.