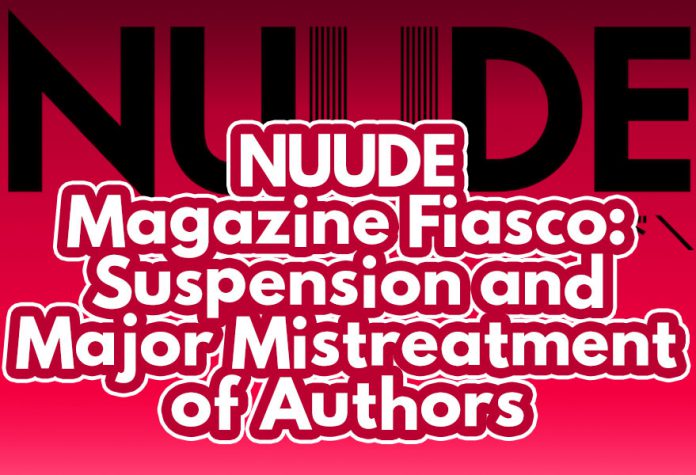 NUUDE Magazine suspended just after 2 years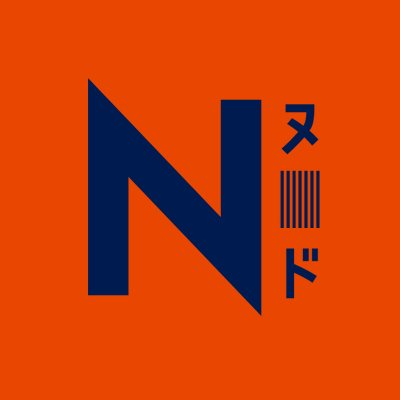 BL Web Magazine NUUDE from publisher Tokyo Mangasha started off in July 2020. It featured big-name authors of the BL industry including Natsume Kazuki, Suzumaru Minta, Nago Nayuta, and many more. 
NUUDE purported itself to be the magazine for the new, young generations of BL fans and for anyone that was tired of what has been going on in the industry for the last 5 years. 
The English-speaking BL fans took notice of the magazine as well, given the star-studded author line-up.
But it was announced on August 10, 2022, that the magazine was suspending all publication on September 17th with the release of its 14th volume. 
So, what happened to this magazine that was once considered to be the new hope for the BL industry?
Major mistreatment of the authors by NUUDE magazine management.
The fiasco started back in November 2021, when author Youga Rayri tweeted that the second chapter of their series on NUUDE, 影守人のジグとメル (Kagemoribito no Zigu to Meru) would not be featured on NUUDE Vol. 9 despite their desire to have it on the magazine then, hinting of troubles brewing.
11月号も編集部の都合でジグメル載っておりません。前から言っていますが、私としても2話を読んで欲しかったので残念です。楽しみと言って下さっていた方には何度も期待させてしまい本当にすみません。 https://t.co/xvGb0q8itr

— 陽歌れいり▶︎連載中🎤🎸 (@YOUGA_RAYRI) November 17, 2021
It is reported that around this time (November 2021) that Youga submitted their request to completely terminate their series on NUUDE. However, the management asked for the author to put their ultimate decision on hold, leading to the announcement of the suspension of the series in December 2021 due to scheduling malpractices and repeated mismanagement by the editor assigned to Youga.
「影守人のジグとメル」休載についてのお詫び https://t.co/yU4MGszvnf pic.twitter.com/eSgXOwzotC

— NUUDE編集部 (@NUUDE_comics) December 1, 2021
The first chapter was published in May 2021 and the second chapter was eventually published in May 2022. There was a whole year between the two chapters.
Ultimately, Youga released a detailed statement on August 1, 2022, about the complete termination of their series in NUUDE magazine.
【お知らせ】
東京漫画社NUUDEにて連載中の「影守人のジグとメル」は連載終了とさせて頂きます。
作品を楽しみにしてくださっていた皆様には、残念なご報告となり誠に申し訳ございません。

NUUDE編集部からは、HPでの告知以外されませんので、理由と経緯につきまして画像にまとめました。 https://t.co/kBxgYeI4wj pic.twitter.com/lm6y8eueZX

— 陽歌れいり▶︎連載中🎤🎸 (@YOUGA_RAYRI) August 1, 2022
In this statement, the author noted several major mistreatments including:
The editor couldn't be contacted and thus the story development couldn't continue.

The editor didn't show up to many of the meetings.

Compared to other authors' series development and publishing status, Youga felt that they were being ignored and mistreated by NUUDE.

The mistreatment continued for approximately one year, causing the author to develop negative health complications that have had a serious effect on their daily lives.
Other artists speak up
東京漫画社さんからお知らせいただいたとおり、昨夏発表しておりました『春懸けて、鶯』の続編を取りやめとさせていただきます。
お知らせに記載頂いている理由などから、今後担当さんと一緒にお仕事をしていくことが厳しいと感じたためです。

— 那梧なゆた (@__majide) June 1, 2022
Nago Nayuta also announced the termination of publishing their series on NUUDE.
Nago said that given the poor working standard from their editor on the series, it was no longer feasible for them to continue their series at NUUDE in the above Twitter thread.
On August 5, 2022, NUUDE publicly apologized to Youga Rayri, also noting that the editor-in-chief of NUUDE has been fired on June 9, 2022, because there was no sign of improvement although Tokyo Mangasha had given such orders on multiple occasions.
Just five days after the apology (on August 10, 2022), Tokyo Mangasha announced that it was indefinitely suspending NUUDE from publication after September 17, 2022, and the entire NUUDE editorial department will be abolished once all NUUDE-related works are fully published. This is an effective termination of the magazine, but perhaps the publisher noted it as "suspension" in hopes they can revamp the magazine in the future when it actually has a functioning editorial department that will not treat the authors poorly.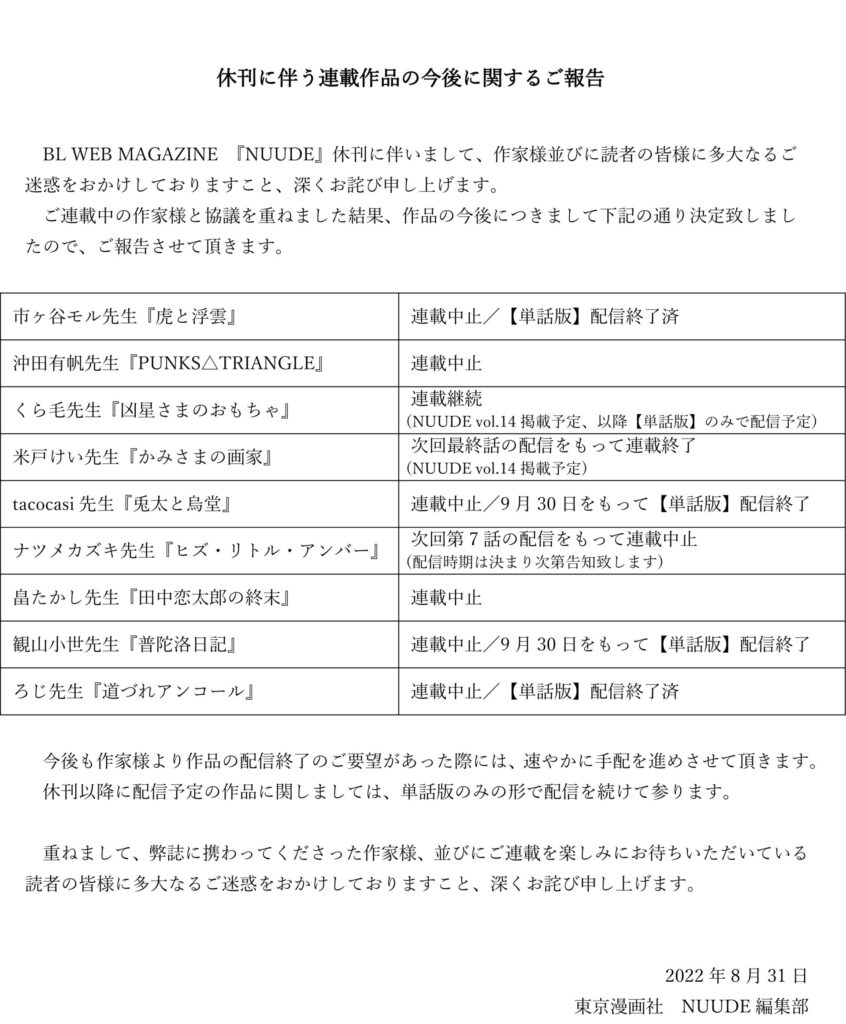 Is this the end of NUUDE?
At the moment it is not clear if the artists will retain enough copyrights of their series to move to other magazines at will. However, by August 31, 2022, most participating artists announced via the magazine's press release that they were suspending the creation of any further chapters in their series, given this grave situation.
NUUDE was a new hope for the publisher and the BL community that could have been a platform to grant new artists an opportunity to succeed. However, Tokyo Mangasha treated artists poorly, received public outrage on social media, and they decided to shut NUUDE down to save itself. It was a huge fall from grace of what could've been a great BL publication for the new era.
Source: Nuude
---
Looking for some BL doujinshi? Check out Irodori Sakura's BL catalog here!

---
If you enjoyed this article, you can support us by buying our officially localized English Doujinshi on our Irodori Comics Store! Works are uncensored and DRM-Free for you to keep!
When you buy works on our website, up to 60% of the selling price goes directly to the artists as royalties!
Read more news articles here.