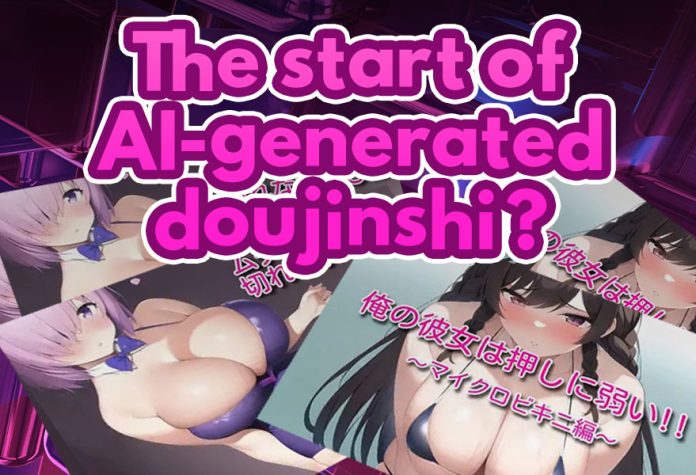 AI-generated hentai being sold on DLSite?
On October 6, 2022, a certain Japanese tweet became viral and has accumulated over 28,000 likes (and counting).
AIで生成したエロ画像をDLsiteで売って金を稼ぐ奴が出てきてるっぽいんだけど、文明崩壊後に「こんな合成肉じゃなく天然のステーキが食いてえなあ…」みたいなことがエロ画像業界で起こるとはな…。

— さらしる (@sarasiru) October 6, 2022
In this tweet, user Sarasiru alleges that there seem to be people who are making money selling AI-generated hentai pictures on DLSite. They added that they never expected this situation (much like something that could happen in a post-apocalyptic world where someone would say, "Man, I wish I could eat some natural steak instead of this synthetic meat…") to happen in the hentai picture industry. By "hentai picture industry," we believe that the Twitter user means the industry of hentai CG sets rather than hentai manga.
This is merely an allegation with no concrete proof or examples yet but given the recent exponential popularity of AI image generators in Japan right now, it's feasible that this problem does exist already and will become a huge problem in the near future.
How should storefronts deal with these possibly AI-generated products?
If storefronts like DLSite are not already drafting up policies to deal with AI-generated products, they should be working on it as soon as possible, especially given that many artists are against it. Just recently, we saw how much mimic (a Japanese AI image generator) came under fire and stopped providing its service after one day of release.
There are many important questions to be answered, for example: 
Would storefronts allow AI-generated products? If they do allow AI-generated products, how are they going to deal with art plagiarism, given that AI image generators can only work if they are fed with data to work on? What would storefronts do when the AI products are suited by artists on the grounds of copyright infringement? 
If storefronts do decide on embracing AI-generated products, it is highly likely that this move will turn artists away from them because such a decision may conjure feelings of distrust in the artists.
FANZA and DLsite make their positions clear
According to scenario writer Sasaki Shino, FANZA (owned by DMM) released a statement saying that they will be postponing the release of products that seemed to be AI-generated between October 8th to 10th as FANZA prepares policies to deal with AI-generated products. FANZA also noted that it plans to necessitate all AI-generated products to be labeled with an "AI-Generated" tag on its platforms along with a detailed explanation in the product description (including what AI image generator has been used to create the product).
DLsite側の対応はこちら pic.twitter.com/Ac2pWMBWvk

— 佐々木 篠@コミケ2日目東L35b (@shino_novel) October 7, 2022
Sasaki also posted a response from DLSite in regard to this issue. DLSite recognized that it has received a large amount of concerning messages from users about AI-generated products. But they will "not be taking extreme measures of regulations" but will instead "observe the future development" of the situation at hand. However, it acknowledged the necessity for AI-generated products to be easily identified and will be postponing any release of AI-generated products from October 8th onward, until the platform is ready to deal with this issue.
Other:
---
Did you know we have a catalog of
FREE-TO-READ
doujinshi and a collection of works available for
99 CENTS each
?
Check them out
!

---
If you enjoyed this article, you can support us by buying our officially localized English Doujinshi on our Irodori Comics Store! Works are uncensored and DRM-Free for you to keep!
When you buy works on our website, up to 60% of the selling price goes directly to the artists as royalties!
Read more news articles here.