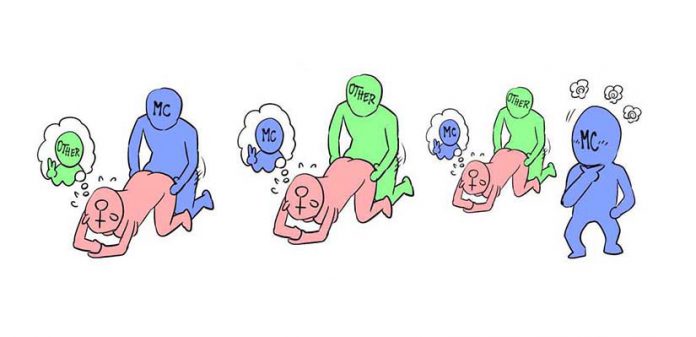 June 2nd is known in Japan as the "Day of Betrayal". June 2nd, 1582, was when Oda Nobunaga, one of the most powerful feudal lords in Japanese history, was betrayed and killed by his retainer, Akechi Mitsuhide.  To recognize the "Day of Betrayal", Irodori Comics held a week-long "Betrayal Sale". As the name suggests, this sale was all about NTR and Cheating stories! For those new to the genre, NTR can be broken down into "Netorare", "Netori" and "Netorase". Here's a quick explanation by bose about the three main subgenres of NTR.
---
"Netorare", "Netori" and "Netorase"
Here are some examples of each subgenre. 
Netori: Another August, 10 Years Later With You, The Captive Cheater, I Became a Mage in Another World 4
Netorare: Night Shift NTR, Good GF Gone Bad, Little Miss Debaucherous 
Netorase: A Cuckolding Wife's Descent: Story of Yukari Masuda, Cucked With My Consent: My Exhibitionist Wife, NTR To Save My Wife
There is, however, a fourth subgenre that is being given its own label.
B – Boku ga S – Saisho ni S – Suki datta "Boku ga Saisho ni Suki datta", known as "BSS", translates to "I liked her first". This subgenre has stories where the MC and the girl are NOT a couple, but the MC has feelings for the girl. Often the MC is too cowardly to, or due to bad timing, hasn't had the time to confess his feelings. Since the MC and the girl aren't together, there is NO "stealing" taking place if the girls has sex with another guy. Hence, a lot of hentai artists debated whether "Netorare " would be the correct clarification of the "stolen-before-I-could-confess" trope. Thus, BSS came to be and is picking up a lot of speed. 
BSS Example: All For You, The Shame Train – I Was Molested Next to My Crush
As for all NTR characters that appear in stories, Kurosugatari recently released a list of common NTR characters. He ranks them based on "NTR Potency", which measures how much psychological damage these guys inflict on Kurosugatari as a reader when he comes across them in hentai stories.
Types of NTR Characters
Obviously, this list is subjective, but what do you think? What kind of NTR guys do you hate the most? Are there other guys you think should be on the list? Let us know in the comments! No matter your preference for NTR, we hope you find something you like in our collection of NTR titles!
---
Check out our collection of NTR works here!
You can also read other interesting posts about hentai here.